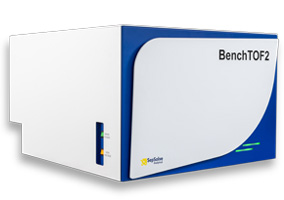 BenchTOF-Evolve
비행시간형 질량분석기
A mass spectrometer for GC delivering
'SIM-like' sensitivity with full spectral information
GC interface : Agilent, Thermo, Shimadzu
Ionisation mode : Electron ionisation(EI)
Control software : GC's software

- 기존 GC Software를 사용하기 때문에 편리(Software 교육 필요없음)

Markes Instrument Control(MIC) software
TargetView Software(time-unlimited licence)
Mass range : m/z 1 ~ 800
Transfer line Temperature : 50℃ ~ 400℃
Resolution

- Mass : >1,200 (FWHM) over 100–800 m/z
- Time : 1ns, with continuum spectra recorded to 0.01 amu resolution

GC sensitivity, EI mode

- 1 pg OFN(m/z 272.0) will give a signal-to-noise ratio (S/N) >2,000:1 rms
while acquiring full spectra up to m/z 800

Data acquisition

- Acquisition rate : Up to 560 full-range spectra (to m/z 1,000) stored to
disk per second
- Native spectral acquisition rate: 10,000 Hz
- Data conversion rate: 1 GHz (default)
Who uses BenchTOF-Evolve?
BenchTOF-Evolve is perfect for any analyst wishing to realise the benefits of TOF MS without the need for extensive training or disruption to existing workflows.
Product benefits
- Enjoy the advantages of TOF MS while retaining your existing
GC–MS workflow and data-processing packages.
- Cut down on analysis time by detecting trace-level targets
and unknowns in a single run.
- Maintain your confidence in chemical identification with
reference-quality spectra.
- Expand your laboratory's capability by using sub-unit mass
selectivity to improve detection of trace-level compounds in
complex matrices.
- Improve your productivity through the greatly reduced need
for cleaning or maintenance of BenchTOF.
- Get more out of your data with TargetView
compound-identification software.
Features
- BenchTOF-Evolve instrument control software compatible with a number of leading GCs and autosamplers.
- SIM-like sensitivity for trace-level analysis of targets and unknowns in a single run.
- Reference-quality 'classical' spectra matching those in commercial or custom quadrupole-acquired libraries.
- High-speed spectral acquisition ensuring compatibility with fast GC and GC×GC.
- Long-term stability of analyte response for reduced downtime.
- Powerful TargetView deconvolution and target-matching software.