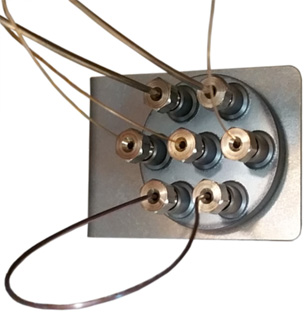 GC×GC-TOF MS 2D GC
비행시간형 질량분석기
BenchTOF for GC×GC
A flexible, high-performance approach to GC×GC The platform-neutral design of BenchTOF allows you to adopt the best GC×GC modulator – flow- or thermally-regulated ​– for your application. In addition, the ChromSpace® module allows you to acquire and process your GC×GC data in a single workflow as part of the TOF-DS™ platform.
GC interface : Agilent, Thermo, Shimadzu
Ionisation mode : Electron Ionisation(EI) and Tandem Ionisation
Two(2) Dimensional Gas Chromatograph(2D GC)
Control software : TOF-DS

- GC 및 MSD의 조작 및 정성, 정량을 하나의 Software로 한번에 가능

TargetView Software(One year licence)
Mass range : m/z 1 ~ 1,500
Transfer line Temperature : 50℃ ~ 450℃
Resolution

- Mass :

(70eV) >1,200 (FWHM) over 100–1,000 m/z
(14eV) >800 (FWHM) over 100–1,000 m/z

- Time : 1ns, with continuum spectra recorded to 0.01 amu resolution

GC sensitivity, EI mode

- 70eV : 1 pg OFN(m/z 272.0) will give a signal-to-noise ratio (S/N) >2,000:1 rms while acquiring full spectra up to m/z 800
- 16eV : 1 pg Benzophenone(m/z 182.0) will give a signal-to-noise ratio (S/N) >80:1 rms while acquiring full spectra up to m/z 800

Data acquisition

- Acquisition rate : Up to 560 full-range spectra (to m/z 1,000) stored to disk per second
- Native spectral acquisition rate: 10,000 Hz
- Data conversion rate: 1 GHz (default)
The enhanced separating power of comprehensive two-dimensional gas chromatography (GC×GC), combined with the sensitivity, spectral quality and robustness of BenchTOF, ensures confident detection and identification of ultra-trace-level analytes even in the most complex sample matrices.
Features
Key advantages of GC×GC–BenchTOF include:
- No mass discrimination: Unlike all other TOF systems, BenchTOF instruments deliver reference-quality spectra that are directly comparable to commercial and legacy libraries.
- Confident detection and identification of ultra-trace analytes, thanks to the exceptional sensitivity and spectral quality of BenchTOF instruments.
- Compatibility with the latest advances in both thermal
and flow modulation.
- Unparalleled productivity and improved analytical workflow,
thanks to the ChromSpace® GC×GC data-processing module
for TOF-DS.
- Hassle-free soft ionisation, using the power of Select-eV® ion
source technology – now with Tandem Ionisation® for full
sample characterisation in a single run.
INSIGHTTM Modulator
GC×GC
Comprehensive two-dimensional GC (multidimensional gas chromatography) subjects each 'fraction' from a 1D column to a second GC separation, using a modulator to focus the first-column eluent into narrow bands before injecting them into the faster-eluting secondary column. The result of this is the separation of mixtures that co-elute on the first column, and a consequent order-of-magnitude increase in compound resolution.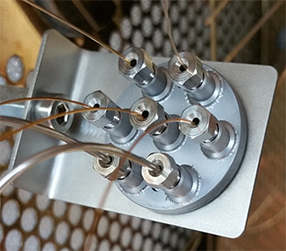 The INSIGHT™ flow modulator from SepSolve overcomes the cost and logistical issues of the liquid cryogen needed for thermally-modulated systems. In addition, it provides separation of volatiles from C1 to C40+, no modulation breakthrough for improved characterisation of both large and small peaks, built-in splitting for use with multiple detectors, and compatibility with heart-cutting 2D GC.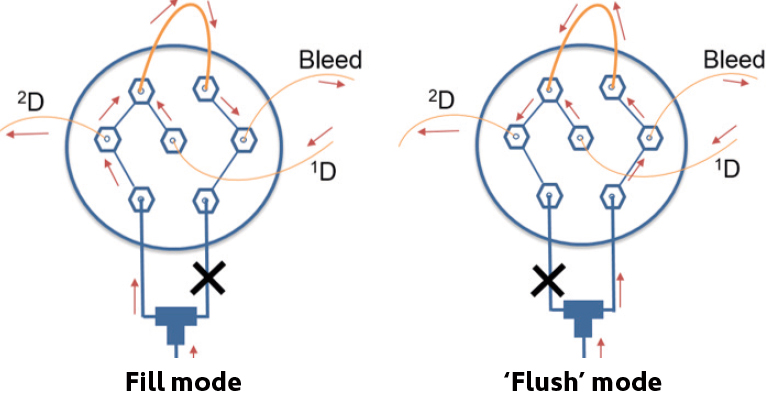 The valve-based Insight modulator uses differential flows to simply 'fill' and 'flush' a sample loop - meaning low running costs for routine GC×GC and none of the logistical issues associated with liquid cryogen.