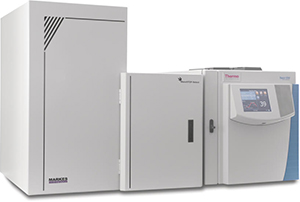 BenchTOF-HD
비행시간형 질량분석기
Time-of-flight mass spectrometer for GC and GC×GC
GC interface : Agilent, Thermo, Shimadzu
Ionisation mode : Electron ionisation(EI)
Control software : TOF-DS

- GC 및 MSD의 조작 및 정성, 정량을 하나의 Software로 한번에 가능

TargetView Software(One year licence)
Mass range : m/z 1 ~ 1,500
Transfer line Temperature : 50℃ ~ 450℃
Resolution

- Mass : >1,200 (FWHM) over 100–1,000 m/z
- Time : 1ns, with continuum spectra recorded to 0.01 amu resolution

GC sensitivity, EI mode

- 1 pg OFN(m/z 272.0) will give a signal-to-noise ratio (S/N) >2,000:1 rms while acquiring full spectra up to m/z 800

Data acquisition

- Acquisition rate : Up to 560 full-range spectra (to m/z 1,000) stored to disk per second
- Native spectral acquisition rate: 10,000 Hz
- Data conversion rate: 1 GHz (default)
Who used BenchTOF-HD?
Analysts in high-throughput or QA/QC laboratories rely on BenchTOF-HD for its outstanding performance across a wide range of GC and GC×GC applications
Product benefits
- Cut down on analysis time by detecting trace-level targets and unknowns in a single run.
- Meet the demands of applications requiring ultra-low detection limits.
- Enjoy confident chemical identification using reference-quality spectra.
- Expand your laboratory's capability by using sub-unit mass selectivity to improve detection of trace-level compounds in complex matrices.
- Speed up analysis of complex samples with fast GC and GC×GC.
- Improve your productivity through the greatly reduced need for cleaning or maintenance of BenchTOF.
- Streamline your instrument control, method development and data analysis with TOF-DS software.
- Speed up data processing using the near-real-time capability of TOF-DS.
Features
- Powerful TOF-DS software for instrument control and data analysis, including near-real-time processing, unlockable parameters for fast method development, and ChromCompare chromatographic screening.
- SIM-like sensitivity for trace-level analysis of targets and unknowns in a single run.
- Extended mass range (m/z 1–1500) and temperature performance for tackling the most demanding applications.
- Reference-quality 'classical' spectra matching those in commercial or custom quadrupole-acquired libraries.
- Sub-unit mass selectivity to eliminate matrix interferences and improve signal-to-noise ratios.
- High-speed spectral acquisition ensuring compatibility with GC and GC×GC.
- Long-term stability of analyte response for reduced downtime.